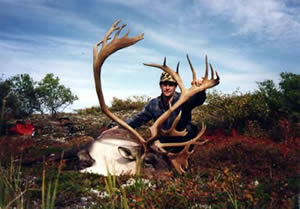 Highly respected for the quality of his work, Locie Murphy has earned a reputation that discriminating sportsmen from across the country seek. As a big game hunter, he knows the time and expense that goes into the taking of a trophy animal.
Special attention is given to each original design to enhance the best features of the animal. Details of natural habitat and wildlife behavior are studied to recreate a diorama specific to the animal's origin. The award-winning taxidermist's work is on display at the Bass Pro Shop in Springfield, Missouri, as well as in many of the top hunters' and collectors' trophy rooms across the country.
Locie's artistic talent has also evolved into creating bronze sculptures of wildlife. He helped sculpt what many believe to be the most accurate whitetail deer sculptures available.
info@murphysart.com
www.deergear.com
Mitchell Murphy with the Rath Buck
Lance Murphy with 2003 Wyoming Antelope
Mitchell Murphy & his 2005 Wyoming Antelope
Locie with his Alaskan Moose
Bill Herron 3/20/1936 - 11/17/2006
Locie's Alaskan Brown Bear

Alice Murphy
12/30/1917 - 12/9/2006

Lance & Flathead Catfish
Locie's 2009 Utah Bull Elk